Title:
Sir Dean vs. the Griffin

Disclaimer:
If anyone owns anything in this relationship, Supernatural owns
my
heart. And won't give it back. And won't pay me for it. (i.e. Don't own, don't profit)

Characters:
Dean, Sam

Rating:
G

Word count:
871

Spoilers:
none
Author note #1:
Friend and beta of amazing,

lavinialavender
, has done a fantastic job, as usual. All errors that remain snuck in there under my watch, like gremlins, man...
Author note #2:
I originally wrote this for the
prompt
: "Dean v. some kind of big time old magic beast, a giant or a basilisk or a griffin or some such...Mirror: Oh, hey, he's actually a medieval knight" at: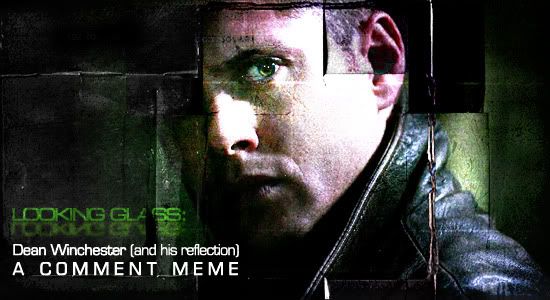 Looking Glass: Dean Winchester (and his reflection) a comment!meme [Click on the image to go to the meme.] Banner courtesy of

animotus
( By the sixth time Sir Dean Winchester, eldest son of Lord John of Lawrence, slams his sword through the monster's skin, he starts to think that maybe he should have taken his smartass little brother's advice... )